Steel Doors
We supply two types of secure steel exit doors to integrate with our range of steel cladding systems.
Paramount's Fire Rated Emergency Escape Steel Door
Paramount's Ten Point Locking Security Steel Door.
Paramount's Fire Rated Emergency Escape Steel Door complies with British standard BS EN 1634-1:2008 and has been tested, passed and certified by The Warrington Fire Global Safety Laboratory WF Report No.15280.
Available either predrilled, to accept Paramount panic bars, or prepared for different panic bars.
The frame of the door has 6 jacking bolts, enabling the installer to quickly fix the door and frame to the opening.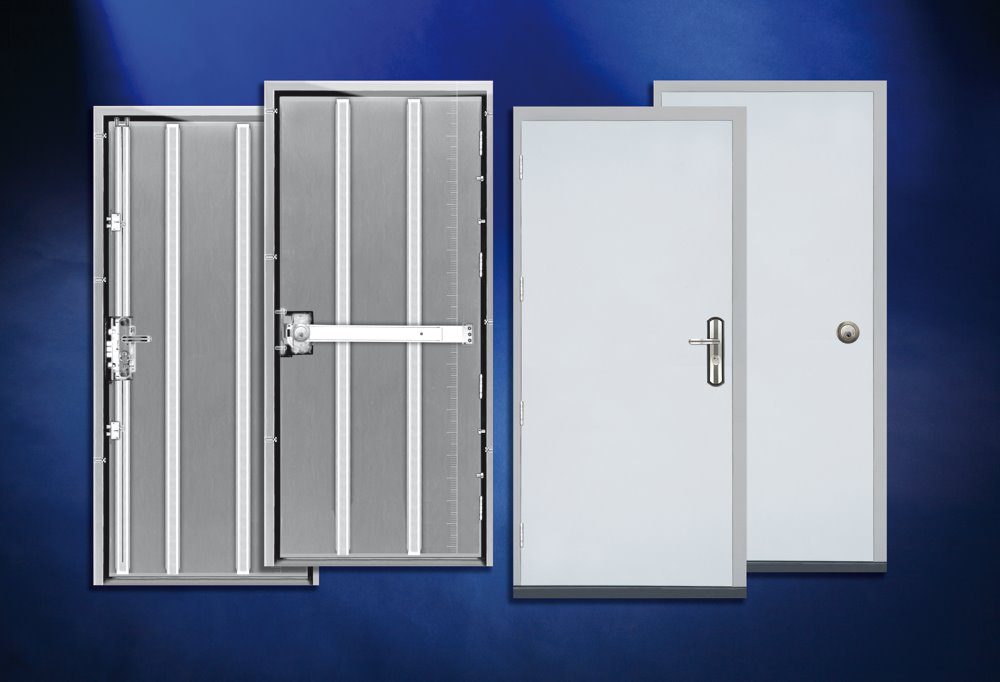 Paramount's Ten Point Locking Security Steel Door incorporates a combination of a ten point locking system and interlocking anti-jemmy studs, which ensures forced entry is difficult. Six of the locking points are connected to steel bars which are linked to and through the master lock mechanism. The master lock itself has four substantial locking points. 8 keys provided for the door, 6 are sealed and for the customer's exclusive use and the other two are for the installer. Once the door is installed, the customer's keys will immediately change the combination of the lock, so preventing any further use of the two installer's keys to add a further level of security.
Both doors are subjected to 5 cleansing treatments prior to powder coating and oven baking. The threshold and all fittings are stainless steel and comply with local authority directives for wheelchair users. The doors are insulated with glass wool in accordance with British Standards directives BS EN 1634-1:2008. The doors are supplied with an installation kit which includes bolts and drill bits to fix the frame to either concrete or steel.